General understanding of the Subscribers section
Subscribers section has several separate tabs:
Subscribers
Groups
Saved segments
Fields
The subscribers section is the place where you find all subscribers in one place. Here you can find segmentation and filtration tools. These tools are used to classify different recipients by specific rules, statuses or behaviors.
Subscribers will have a status icon next to the email address. The envelop icon is for Email and Transactional email statuses, the talk bubble is for SMS and transactional SMS statuses. 
Once you hover over the icon, you can see the status for each of your subscribers, it can either be: active, bounced, reported spam, unsubscribed or non-subscribed.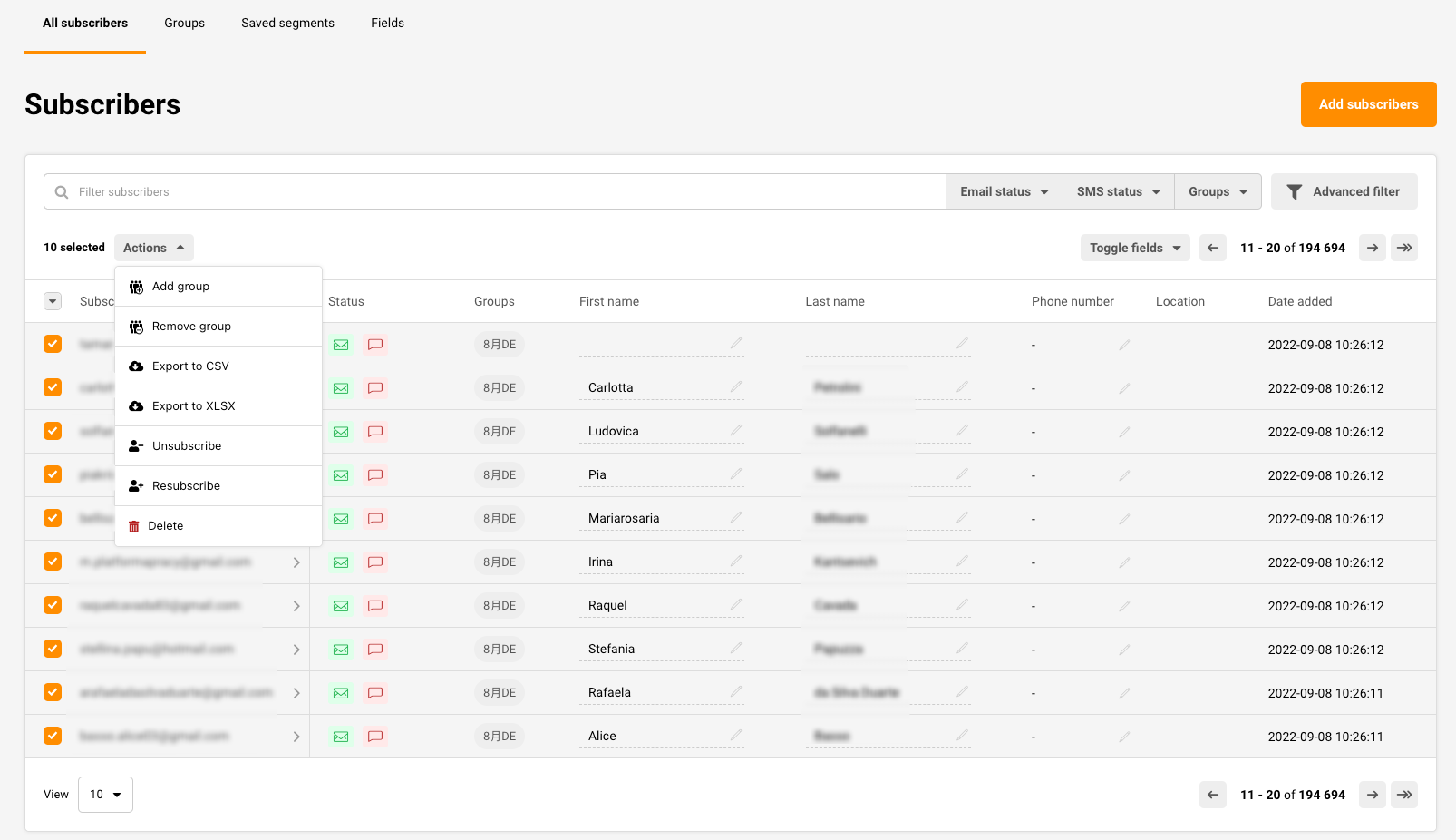 The second tab is called Groups. You can think of group tags as labels for your contacts that help you stay organized. Group tags are a way for you to identify subscribers based on the information you have about them.
Basically, groups play a similar role as mailing lists, though it has a few differences. Each new subscriber must be assigned to a group upon the import or attached to it later on. The subscriber can receive multiple group tags.
Do not worry if you send a campaign to all of your groups because even if a subscriber belongs to all of the groups, they will receive a single copy of the campaign.
Group section stores saved groups (basically, mailing lists). Additional groups can be created, edited, and managed in this section.
The Saved segments tab stores grouped/arranged subscribers. Here you can access, edit, modify and create new segments.
Let's continue with the fields section. Here you can find already existing fields and create new custom fields for the subscribers.
If you got stuck on a specific task or can't find a way to execute a particular job, contact our support team via LiveChat or [email protected] – we're here to help 24/7.