Subscribers Management: Subscribers
All subscribers tab is the main section for managing subscribers. Here you can find all the essential tools: advanced filter, subscribers statuses, assigned groups, etc.
Let's continue to the image below:
If you look closely, you can see that the group called "Tenant"  is selected. When you choose a particular group, all recipients that belong to it will be displayed. You can select multiple groups; subscribers who belong to all picked groups will be filtered out.
The subscribers' management system is even more user-friendly and convenient. From now on, you can change the recipient's custom fields in the same window. Click on the field and start typing.
There's more! If you click on the recipient, you can see it's activity, including past reports, assigned groups, profile information. 
Advanced filter / Segmentation
The segment feature is used to build targeted audiences based on various conditions. To create a segment, you can start by clicking the Advanced filter button.
Now you will be asked to select the specific conditions for your segment.
Furthermore, if you're looking for a precise segmentation, you can add multiple sets of conditions. Subscribers that match all conditions/rules will be presented below.
After subscribers are sorted out – you can execute different actions. Subscribers can be added or removed from a particular group, resubscribed, marked as unsubscribed, deleted, exported, and saved as a segment. 
Subscribers will have status icons next to their email addresses. The envelop icon is for Email and Transactional email statuses, the talk bubble is for SMS and transactional SMS statuses. 
Once you hover over the icon, you can see the status for each of your subscribers:
Active – subscribers that can receive your SMS or email campaigns. 
Bounced – subscribers that cannot be contacted due to invalid email addresses OR your campaigns sent to them have soft-bounced thrice in a row.
Unsubscribed  – subscribers that cannot be contacted because they have unsubscribed from your SMS or email campaigns.
Reported spam – subscribers that cannot be contacted because they consider your sent content to be spam.
Non-subscribed – subscribers that have no status for that particular channel. This status is usually found when customers have not provided their phone number (only email) and thus, the SMS/transactional SMS status gets set to non-subscribed. 
You can quickly sort your subscribers by their email and SMS statuses: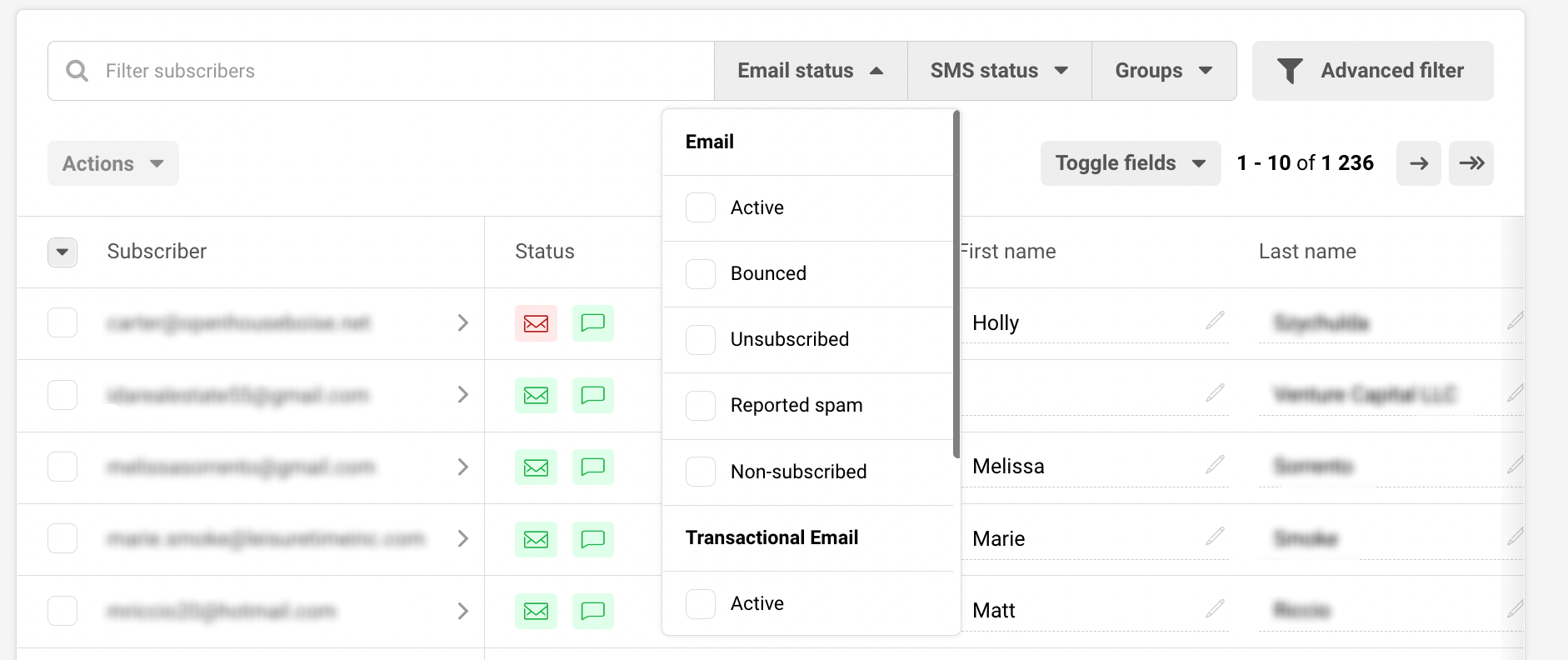 If you got stuck on a specific task or can't find a way to execute a particular job, contact our support team via LiveChat or [email protected] – we're here to help 24/7.