Toll-Free Number Verification
Why do I need to get the Toll-Free number verified?
From the 15th of May 2022, all toll-free numbers used to send SMS messages are required to get verified.
This is an industry-wide change focused on consumer protection in fighting fraud, reducing spam, and ensuring that US and Canadian recipients only get the text messages they consented to receive. More on collecting SMS consent here.
How to get a Toll-Free number?
Please note that the SMS feature is available only for accounts with a Standard or Professional plan. So make sure you have one of the plans active before moving further.
If you are purchasing a plan solely for the SMS feature, make sure that you are not planning to send SMS with the following content, as it is prohibited by CTIA and not allowed to be sent via Sender.net:
S.H.A.F.T. (Sex, Hate, Alcohol, Firearms, and Tobacco);

CBD, Vaping, marijuana/cannabis and any content associated with either one of these;

Gambling, Casino, and Bingo and any content associated with it;

Any High Risk Financial offers such as: loans; debt consolidation and reduction; investment opportunities; credit repair, tax relief, work from home programs.
Here you will find more content and behaviors that are not permitted using our Toll-Free SMS service. Messages found to be associated with the following content may be blocked regardless of opt-in status:
Social Marketing
Financial services whether account notifications, marketing, collections or billing for:

High-risk/subprime lending/credit card companies
Auto loans
Mortgages
Payday loans
Short-term loans
Student loans
Debt consolidation/reduction/forgiveness

 Insurance

Car Insurance

Health Insurance

Gift cards
Sweepstake's
Free prizes
Investment opportunities
Lead generation
Recruiting
Commission programs
Credit repair
Tax relief
Illicit or illegal substances 
Work from home
Get rich quick
UGGS and RayBan campaigns
Phishing
Fraud or scams
Deceptive marketing
If none of these are included in your SMS content, continue with the following steps.
Go to Settings -> SMS settings and click "Add phone number".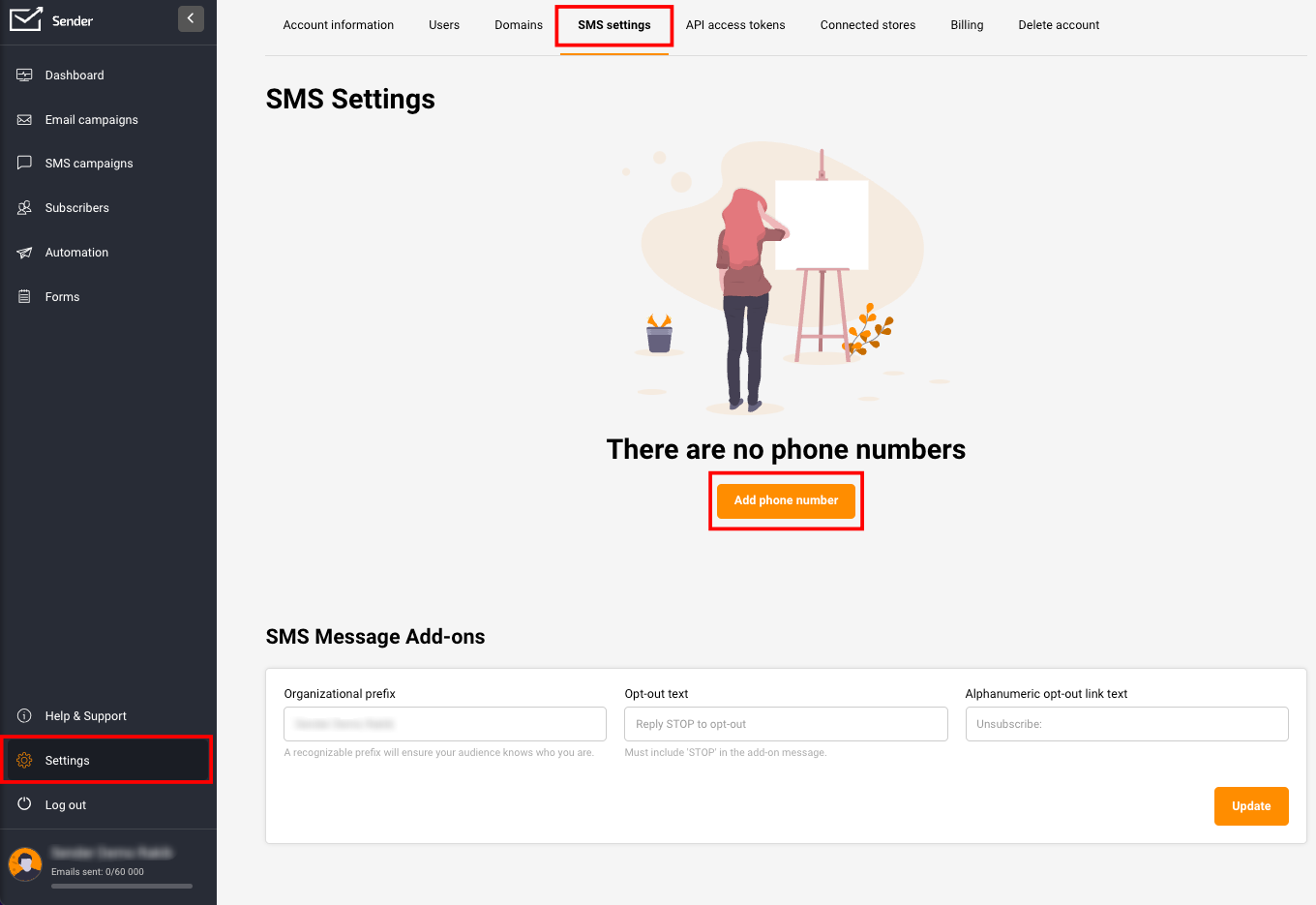 Then choose the "Toll-free" type, select a number from the list and click "Save and continue".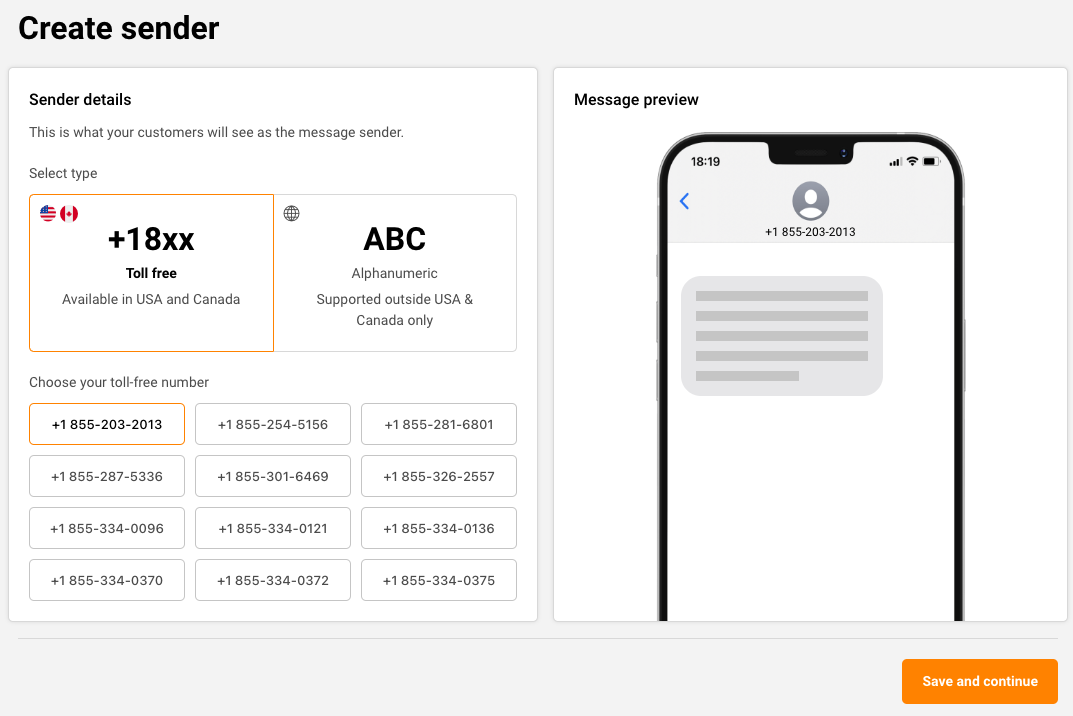 Your chosen toll-free number will now appear in your SMS settings list with "unverified" status. 

How to verify your Toll-Free number?
Once you have the toll-free number added to your account go to Settings -> SMS settings and click "Verify" next to the number you have added.
In the first step will be reminded of the content that is not allowed to be sent via Sender.net. Double-check if none of it applies to you. If it doesn't then click "Continue".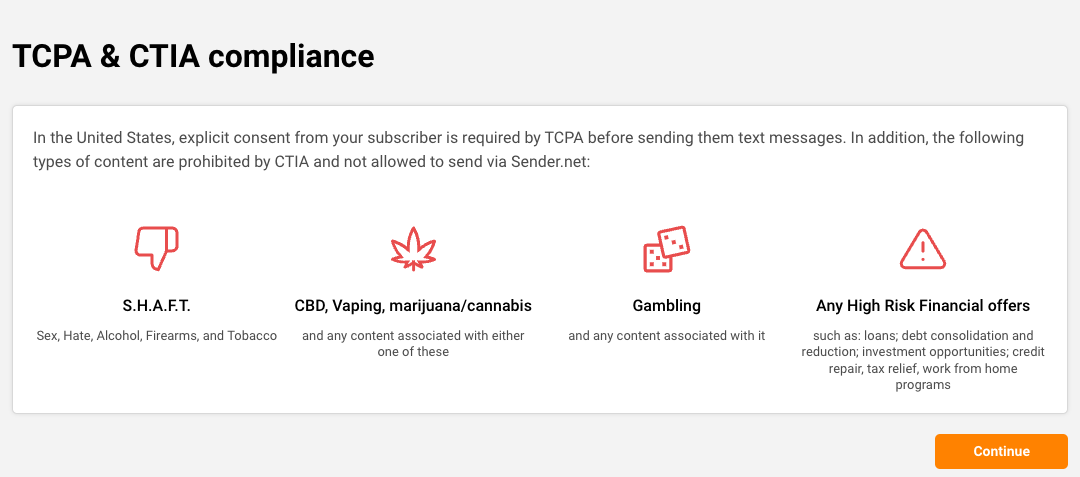 The next step is for you to update your website's/store's Terms of Service (TOS). Copy the text below and add it to your website's TOS.
Once you have done that, confirm it by ticking the box and click "Continue".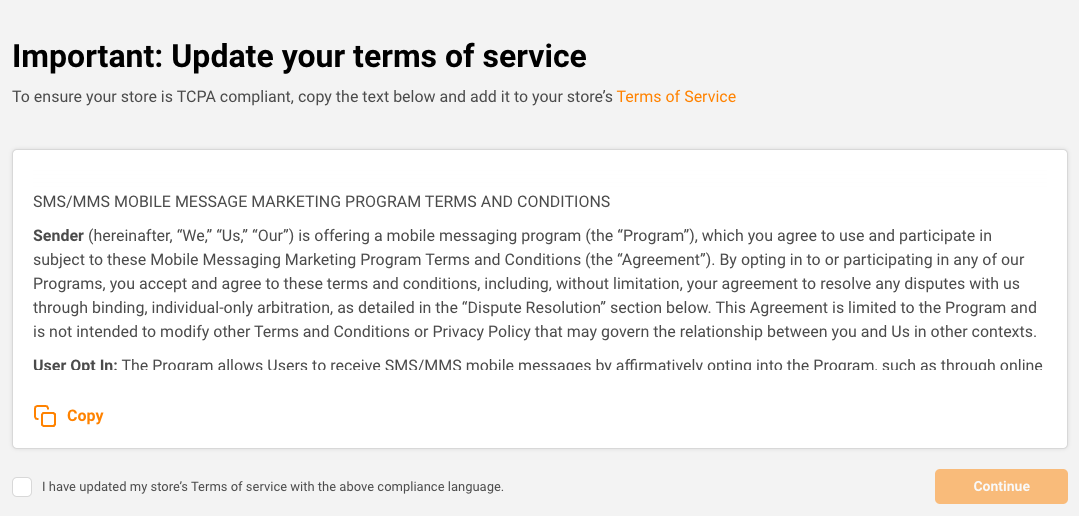 You will now be asked about your messaging plans, SMS consent collection process, and company information.
IMPORTANT NOTE: make sure that your website is up and running before filling out the verification form. If not, the toll-free number will NOT get verified, and the whole verification application process will have to be redone.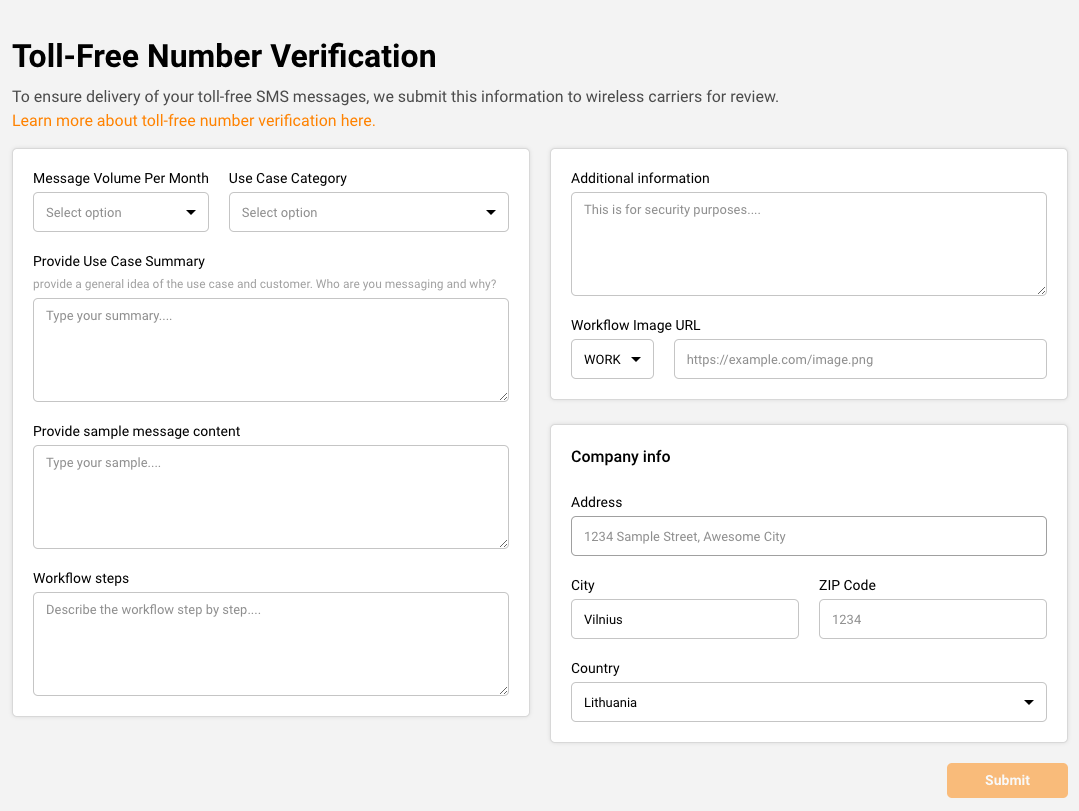 Message Volume Per Month – choose the average number of SMS you plan to send per month.
Use Case Category – choose the best-fitting category that reflects the content you plan to send from the drop-down bar selection.
Provide Use Case Summary – provide a general idea of the use case and customer. Who are you messaging and why?
Provide sample message content – give an example of what your messages will look like to your recipients.
Workflow steps – describe the process step-by-step of collecting your recipients' SMS consent.
Additional information – include any additional relevant information for the toll-free number verification.
Workflow Image URL – include the URL of the image of your workflow setup for collecting SMS consent.
WORK/HOME
Company info – fill in your company information.
Once you fill in all the required information, submit the form, and you will see the status of the phone number set to "In progress".

Once the toll-free number is verified, you will receive a notification, the status in SMS settings will change to "Verified". This means you can start sending SMS to your subscribers.

If you got stuck on a specific task or can't find a way to execute a particular job, contact our support team via LiveChat or [email protected] – we're here to help 24/7.