If you're new to the designing the interface can be pretty overwhelming at first and that's okay – the drag & drop design editor is user-friendly and feature-rich.
Section blocks must be implemented first, then different elements can be added upon it. Sections is like the foundation of the newsletter. 

After you finish building newsletter's foundation, pull the necessary element blocks into them, and begin creating a stunning newsletter!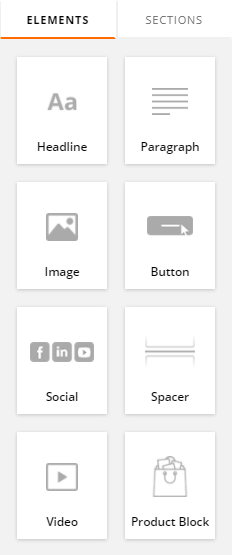 • Headline element is dedicated specifically for headlines 
• Paragraph element is meant for longer text – descriptions, stories, and so on.
• Image element is for your images, gifs and other visuals.
• Button element creates a button or call-to-action
• Spacer allows you to separate your content with a customizable spacer.
• Video element is pretty self-explanatory, however  video files must be imported from youtube or another video-sharing platform – then videos are converted to a high-quality gif and added to the newsletter.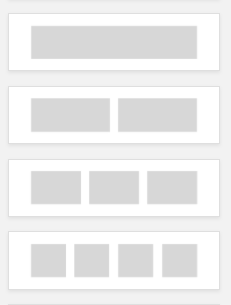 In the beginning, users will have default sections; however, additional sections can be saved. For example – if you created an excellent looking footer, you can save it for future use. Click here for a tutorial on "how to save sections" 
Designing experience with newsletter builder is quite enjoyable – creating good looking emails never been so easy. Further, essential email designs are usually produced in few moments.
 Click on a video below to see the whole process in motion. 

How to customize element?
 When an element is dragged to the section column, a customizable menu will appear on the right side of the dashboard. There you'll be able to modify settings like sizes, colors, paddings, and other element's settings. 
Furthermore, elements are easily moved between columns. Simply pick the needed item and drag it to next section.
That's it! You just finished with basic training!


If you got stuck on a specific task or can't find a way to execute a particular job, contact our support team via LiveChat or support@sender.net – w

e're here to help 24/7, 7 days a week.