Automation's Starting Trigger
Automation workflows allow you to create thousands of scenarios for sending automated emails without lifting a finger. Nevertheless, every automation sequence must start with a trigger.
When creating a new automation workflow, you will be presented with different starting triggers:
A Date. For example, you have the  'last purchased' date as a custom field next to each subscriber and want to start a Win-Back Customer email series. In order to activate date trigger subscriber's custom field must have "date" type selected.
An Anniversary Of A Date. Perfect for sending Birthday cards or for any other anniversary date. For this trigger, you need to have a defined date custom field information for each subscriber. The system will require date formatting and automation will start each year automatically.
Subscriber Added to a Group. This automation workflow will start when a subscriber gets added to a certain subscriber group via a subscription form or an API call.
Subscriber Is Removed From a Group. The automation will start whenever the subscriber is removed from a defined group via an API call or a separate automation workflow. Manually removing subscribers

will not

trigger the automation.
A link Is Clicked. Automation would start its first action whenever a subscriber clicks on a specific defined link. It might be a link to a particular product or any other link used in previous campaigns. After subscribers click on the link, they automatically participate in a secondary automation sequence which starts after the "A link is clicked" trigger.
Cart Is Abandoned. Abandoned cart reminders might be a great source of revenue. It starts the automation workflow once a cart is abandoned. Send them emails, add them to tailored-made groups, and get notified if a cart is recovered.

This requires integration with e-commerce!

A Product Is Purchased. Send customers Thank-you letters, post-purchase feedback requests, or get notified when somebody buys your product or service.

This requires e-commerce integration!

An API Call Is Made. Start the automation with any of your system's events. Send an API call from any other system or program and start the automation.
Subscriber unsubscribed. Start the automation if any of your subscribers unsubscribes.

It can be used to notify yourself about this occasion, move subscribers to a certain group, remove them from future messaging, and even send a confirmation email to the subscriber acknowledging their decision to unsubscribe.

Subscriber field updated.  Start the automation sequence when any of the chosen fields receives new information.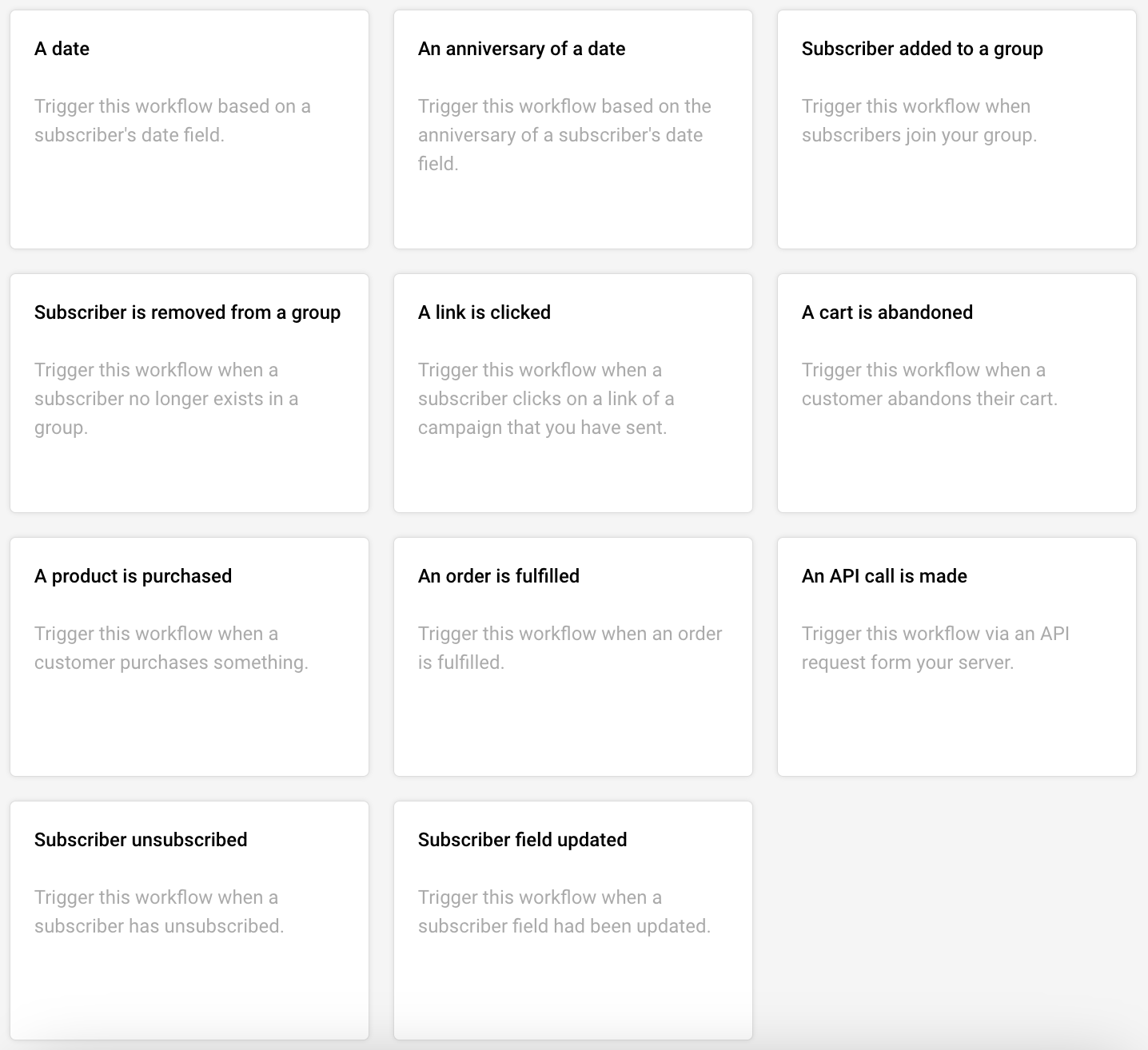 Note: Automation is triggered according to the account's time zone. If you're facing any delays, please double-check the time zone set in your account settings. 
If you got stuck on a specific task or can't find a way to execute a particular job, contact our support team via LiveChat or [email protected] – we're here to help 24/7.