Can I create HTML campaigns in automation?
Yes! To create an HTML campaign in automation add an Email step. 

After you fill in the relevant information, for the Campaign design, from the drop-down bar choose "Custom HTML" and click "Create".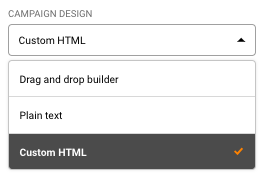 You can also create a campaign using our Drag and Drop editor and a custom HTML block in it. More on that here.
If you got stuck on a specific task or can't find a way to execute a particular job, contact our support team via LiveChat or [email protected] – we're here to help 24/7.