Can I create a plain text email in automation?
Yes! To create a plain text campaign in automation add an Email step.

After you fill in the relevant information, for the Campaign design, from the drop-down bar choose "Plain text" and click "Create".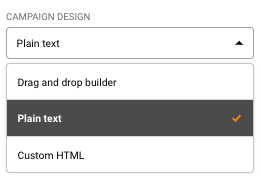 If you got stuck on a specific task or can't find a way to execute a particular job, contact our support team via LiveChat or [email protected] – we're here to help 24/7.