A general guide on email and SMS automation feature
What is email marketing automation?
It may be a confusing term for those that are new to email marketing. But do not worry, the whole process is more straightforward than you think.
In simple terms, email marketing automation is a futuristic-sounding name for a tool that takes your email marketing to a whole new level. It does so by making your campaigns more personalized and precise ( time-wise). It converts manual tasks into an automated sequences.
Developing an automated workflow could appear difficult at first, though, the entire process is user-friendly and straightforward. In practice, any needed sequence can be built using different steps, conditions, and triggers. 
Here's how it looks in motion.  
Automated workflows allow you to create thousands of different scenarios of sending automated emails without lifting a finger. Nevertheless, every
automated sequences
must start with a trigger.
At the start, you will be asked to select a starting trigger. Starting triggers are:
A Date

–

 In order to activate date trigger subscriber's custom field must have "date" type selected. For example, you have the  'last purchased' date as a custom field next to each subscriber. 
An Anniversary Of A Date

–

Perfect for sending Birthday cards or for any other anniversary date. For this trigger, you need to have a defined date custom field information for each subscriber. The automation will start each year automatically.
Subscriber Joins A List

– 

This automation workflow will be started when a subscriber is added to a certain subscriber list via subscription form or API call.
Subscriber Is Removed From The List

– 

The automation will start whenever the subscriber is removed from a defined list via API call or separate automation workflow. Manually removing subscribers will not trigger the automation.
A link Is Clicked

–

 Automation would start its first action whenever a subscriber clicks on a specific link. It might be a link to a particular product or any other link used in previous campaigns. After subscribers click on a link, they automatically participate in a secondary automation sequence which started after the "A link is clicked" trigger.
Cart Is Abandoned

– 

Abandoned cart reminders might be a great source of revenue. It starts the automation workflow once a cart is abandoned. Requires e-commerce integration!
A Product Is Purchased

–

 Send customers Thank-you letters, post-purchase feedback requests or get notified when somebody buys your product or service. Requires e-commerce integration!
An API Call Is Made

– 

Start the automation with any of your system events. Send an API call from any other system or program and start the automation.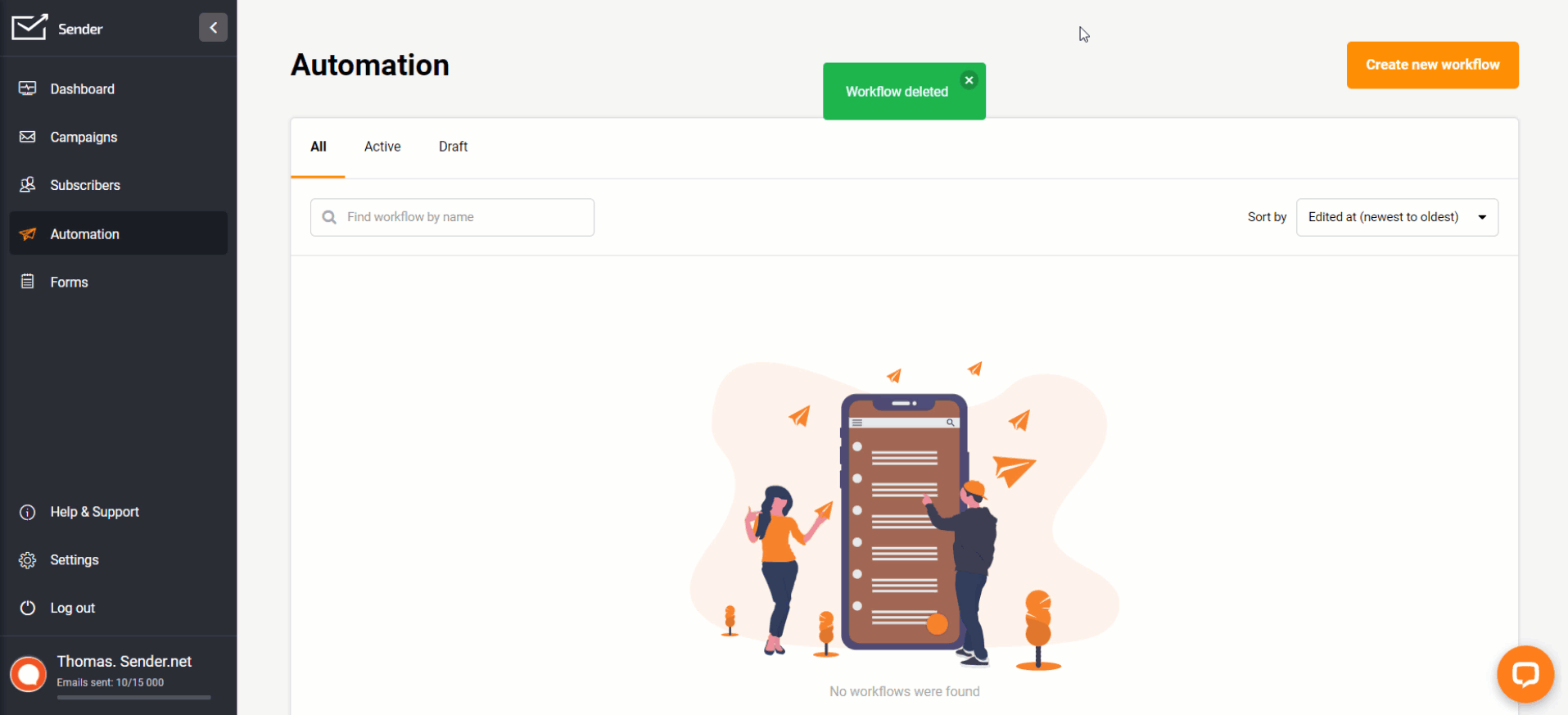 When the automation trigger is set, continue by adding the following steps.
Each automation sequence is a combination of different steps: condition, delay, email, SMS, action. 

Continue the workflow in a different way depending on whether conditions are matched.


Wait for a certain period of time.

A newsletter which will be sent to a subscriber.

An SMS which will be sent to subscriber.

Change subscribers details or list membership, notify yourself or sent a web-hook.
Condition step is one of the most effective ways to create unique route for a different occasions. What activity can be selected?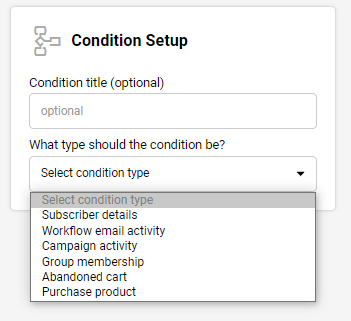 Subscriber details ( custom fields, like name, surname etc.)

Workflow email activity 

Campaign activity 

Group membership ( e.g. move to different group) 

Abandoned cart ( integration required)

Purchase product ( 

integration required)
Delay step is pretty self-explanatory.  Delayer can be set for: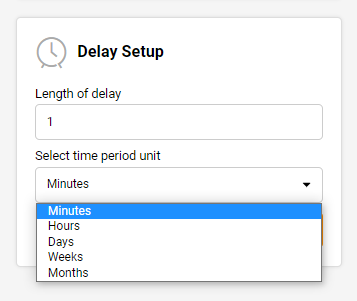 Minutes
Hours
Days
Weeks
Months
Email step is pretty basic, enter these fields: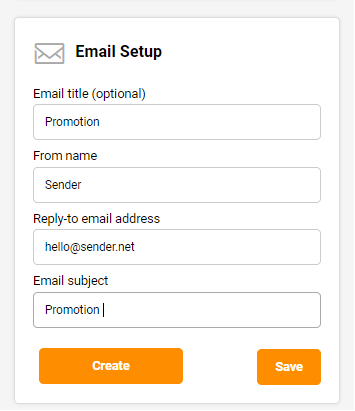 Email title ( Optional)
From name
Reply-to address
Email subject
then click on "Create" button and Drag & Drop design builder will be launched.

Campaign name

Sender

Message text

Add Opt – out instructions
then click "Save" and SMS are prepared.
The action step is used for executing activities for specific conditions. These are possible actions: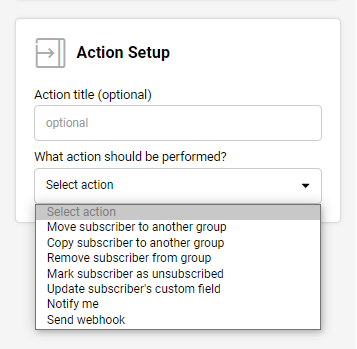 Move subscribers
Copy subscribers
Remove subscribers
Mark subscriber as unsubscribed
Update subscriber's custom field
Notify me
Send webhook
Automation's reports are located on the particular automation workflow itself, open automation to view extensive report statistics. 
In order to view the complete report of a particular action step – click on the step and select the "Full Report" button. Next, a new window with comprehensive statistics will appear. 
If you are stuck on a specific task or can't find a way to execute a particular job, contact our support team via LiveChat or [email protected] – we're here to help 24/7.