As you already know, a section is one of the most important things in the new Design editor. A section is basically a combination of content elements in one piece. When creating a new email design, you can insert whole sections, instead of inserting each content element separately.
The first one is called 'Template sections'. You can access it as shown in the gif below. It's a section library that consists of sections existing in the current template. It only has sections added to it if you chose a pre-existing template. Pretty time-saving.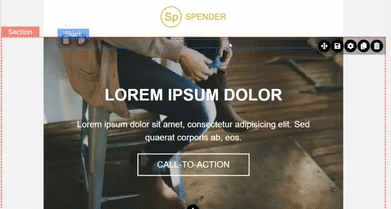 What you probably didn't know, is that you can now save sections to your section library.
You can save your email headers, footers, descriptions, or any other parts of the email and re-use them over and over again in your new designs. It's like to save your old email as a template in order to re-use it, but in this case you only save a specific part of the email and insert it to any other email . Cool, eh?
Here's how you do that:
So here's what you should know about the brand new Design editor.